Due to the shortage of fossil fuel and the environment concerns, the green energy industry and related industries will become the main stream in the coming 30-50 years. Therefore, the application of the renewable energy has attracted more and more attention. That causes the strong demand of rechargeable batteries. However, the existing lithium ion cell systems including lithium cobalt oxide and lithium manganese oxide still suffer from low discharge rate, safety concern and short cycle life.
To solve those issues, Evpst battery has successfully developed a new lithium ion cell by using lithium iron phosphate as cathode to fulfill the above requirements.
Product Characteristics: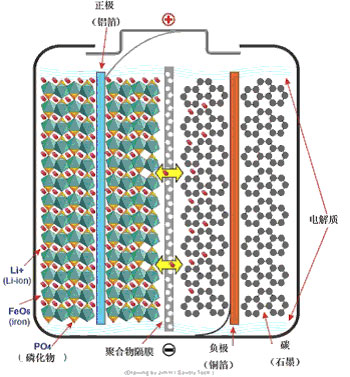 1:Non-toxic, non-contaminating; SGS /CE/ RoHS approved

2:Extremely safe; no explosion and will not catch fire under collision, over charged or short circuit

3:Small in size and light in weight

4:For all high power output applications

5:Can be used under extreme temperature

6:Extra long cycle life

7:No memory effect

8:Can be fully charged in a very short time

Key Features and Advantage of LiFePo4 Material
High Performance --- High theoretical capacity of 170mah/g and high practical capacity as high as 165mah/g.
Extremely Safe/Stable Chemistry --- High intrinsic safety , no explosion & will not catch fire under collision, over charged or short circuit. High thermal stability of phases up to 500C.
High Rate Capability --- For all high power output application
Extraordinary Long Cycle Life --- Best can up to 3000 cycle life , would be over 8~10 times life of Lead Acid and 3 times of NIMH.
Long Service Life --- Over 6~10 years
Environmentally Friendly --- Non-toxic,non-contaminating. No rare metal , UL, CE, SGS/ROHS approved
Wide working temperature range --- From -45 C–+70C ( Extemely cold and extremely hot weather will not effect its performance)
Flexible Form Factor --- Small in size and light in weight 1/3 weight of Lead Acid and 65% weight of NIMH.
Inexpensive Components ,No memory effect ,
Can be fully charged in a very short time --- 2C fast charge within half hour